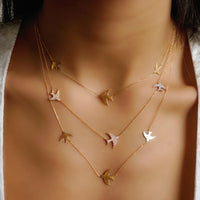 ONLY THE FINEST
✶ HIGHEST QUALITY
All our pieces are handmade & perfected in Europe & New York by skilled craftsmen using only the best & most precious materials.
✶ FAIREST PRICING 
All the luxury minus the price tag. We have removed the middle man, selling directly to you.
✶ ETHICALLY SOURCED, SUSTAINABLY MADE
Our conflict-free materials have been carefully sourced, adhering to the Kimberly Process. Our collections have been handmade by experienced craftsmen using recycled gold.
Testimonials
Thank you so much for your exceptional customer service. I adore my Fly me to the Moon necklace & I wear it everyday because it looks fab with everything.I was so impressed with it that I had to buy your twinkle twinkle hoop earrings too. All your jewelry is so tempting !

MICHELLE
Love, love, love my little bracelet, so pretty!!!!

MARLIES
This charm bracelet is super-pretty & wards off evil. Whats not to like?

THE TIMES MAGAZINE